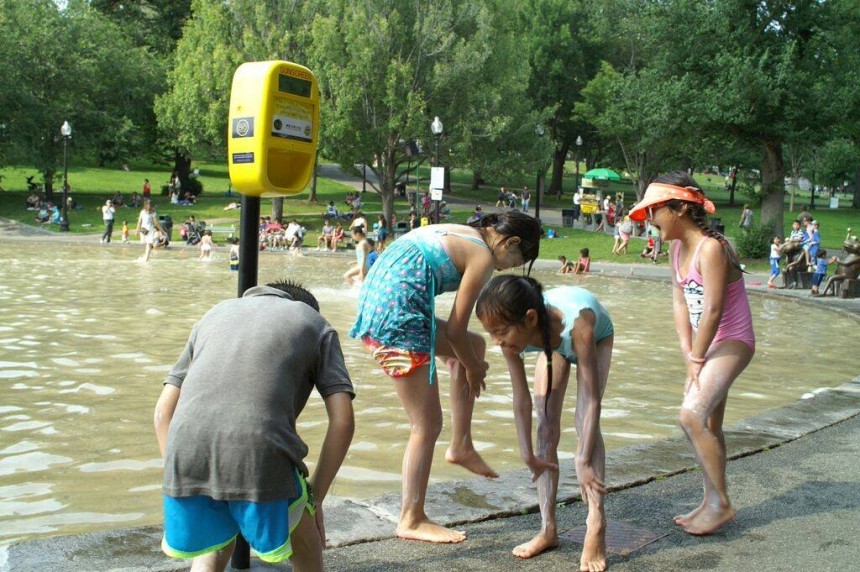 BrightGuard Launches the City of Boston
Mayor Walsh Announces Free Sunscreen Dispensers Coming to Boston Parks
"Preventing skin cancer is a public health imperative"
BOSTON – Thursday, June 25, 2015 – Mayor Martin J. Walsh today announced a joint partnership with the Melanoma Foundation of New England (MFNE), Make Big Change (MBC) and the Boston Parks and Recreation Department to provide free BrightGuard sunscreen dispensers in public parks in the city of Boston.
Boston will be the first major city in the Northeast to initiate this program, currently in effect in Miami Beach, Florida. The partnership will begin with a pilot program of 30 initial sunscreen dispensers in five city parks, and may lead to a widespread installation throughout Boston, depending on the success of the program.
"Preventing skin cancer is a public health imperative," said Mayor Walsh. "Strategically placed sunscreen dispensers offer the public an easy preventive measure to avoid sun overexposure. We are proud to be the first Northeast city to pilot this program and thank MFNE and MBC for stepping forward as partners."
The dispensers will initially be placed in Millennium Park, West Roxbury; Jamaica Pond, Jamaica Plain; the Boston Common; Christopher Columbus Park, North End; and East Boston Stadium and Memorial Park, East Boston.
The sunscreen dispensers offered by MFNE and MBC are weather resistant and low maintenance, and hold all-natural SPF-30 sunscreen, which is safe for people aged 6 months and up. All of the ingredients will be printed on the machines upon installation, and are available upon request.
MFNE will subsidize the cost and procurement of the sunscreen dispensers at no cost to taxpayers through private and corporate sponsorship donations, and funds raised by MFNE's Running for Cover, one of the Boston Athletic Association's Official Charity Teams for the 2015 Boston Marathon. MFNE will also use this platform to expand their year-round public education programs aimed at melanoma prevention and detection. Since 2014, MBC has worked to place sunscreen-dispensing devices across high-traffic areas in New Hampshire including public parks and beaches.
"Skin cancer and melanoma are among the most prevalent cancers," said City Councilor Matt O'Malley, who first proposed a citywide sunscreen initiative. "They're also among the most preventable. I am proud to partner with Mayor Walsh and the Melanoma Foundation of New England to provide sunscreen dispensers to residents and tourists as well as increase awareness of the importance of protecting your skin. Once again, Boston will lead the way."
"We know that if used correctly, sunscreen decreases the risk of skin cancer," said Deb Girard, Executive Director of MFNE. "We are thrilled to be working with the City of Boston and Make Big Change to make these units accessible in Boston. We are grateful to have this platform to educate the public on the dangers of sun exposure and skin cancer prevention."
In 2014 the Surgeon General issued a Call to Action to governments, health care officials, groups, families and individuals across the nation to address skin cancer as a major public health concern. According to the Call to Action, as many as 90 percent of melanomas are likely to have been caused by UV exposure, which is highly preventable through proper sun safety measures and avoidance of cosmetic UV exposure, like tanning beds. Melanoma rates are increasing faster than nearly all other cancers.


Designed in sunny Southern Califonia
Copyright © 2023 BrightGuard Inc. All rights reserved.
Privacy Policy | Terms of Use